Ham sandwiches at dawn!
It is clear that the full effects and ramifications of the governments Brexit deal will not be known for some time.Whilst the certainty of a deal rather than no deal enthused the markets prior to Christmas headlines now tell of confusion and unexpected consequences.Ham sandwiches not allowed through boarder check points, British made bike saddles not able to be sold in the UK, VAT confusion, country of origin clarity, no M&S Scotch eggs in Paris and fresh food shortages in Northern Ireland.
"Little has still be agreed with the service industry and the financial sector and that says nothing in regards to the new regulations and their effects now self-determination enables us to create new laws and the changing landscape of regulation as Europe counter acts to stay competitive." Said Andrew Try ComXo's Founder and Managing Director.
"Many of the plans that companies had put in place may now not be valid or contingency plans as new realities become established may need to be actioned. Expertise and problem solving in these areas will be critical to sure up risk or benefit from opportunities." In short the situation is confusing and looks set to be confusing for some time.
European offices fail the client experience test!
However the future for forward looking firms remains to provide expert advice both sides of the channel and most importantly make it easy for clients to access. In a recent piece of mystery shopping of European offices over the last 2 quarters of 2020 ComXo research has uncovered a lack of readiness and consistency from a client experience perspective.
The research covered 6 UK top 20 firms who highlight "Client Experience" as a differentiator and tested a number of client experience scenarios during business hours. Scenarios included new business enquiry, urgent existing matter support call and cold call handling. The research covered periods both over the first lock down and when restrictions were eased and cities were returning to normal.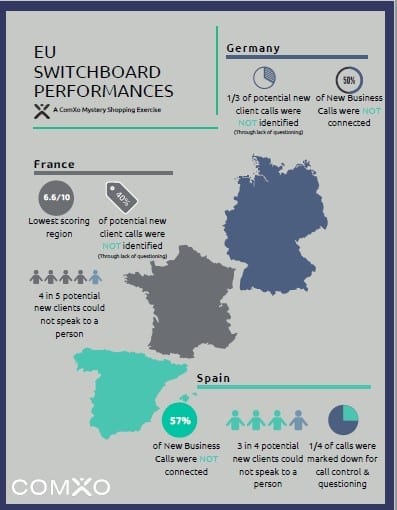 In terms of connecting new business enquiries to a member of staff, offices in all three countries scored poorly. A total of 73% of calls to Germany were missed opportunities. Spain's total was 78% and France, 80%.
Interestingly, the French switchboard operators across each of the firms were marked down for unfriendliness, poor client experience and lack of consistency. Around 20% of calls were actually in that category.
French telephone operators were also penalised for poor call control and a lack of questioning to the extent that in 60% of calls, the operator appeared disinterested in the caller. That this was consistent across firms suggests a cultural departure to the expectations of exceptional client experience we have in the UK.
Spanish call operators were, like France, also marked down for poor call control and lack of questioning - but to a much lesser degree at 23% (compared to France's 60%). And, unlike their French neighbours, Spain's switchboard operators were praised for their friendliness, consistency, good client experience and the correct use of the "hold" facility.
The research shines a spotlight on role of consistency where international offices are concerned. With many international offices offering support for competitive global bid tenders, having the knowledge that your most important customers consistent get treated in an exceptional manner gives peace of mind to the partnership.
So long, farewell, aufiderzein, goodbye?
ComXo has long provided both switchboard support and a range of "rapid response lines" for professional service firms wishing to simplify access for clients with questions. Now with the expansion of our European language desk we can offer these services for both UK and European offices.
With a fast track scope and set up process we can have a line for you to advertise Europe wide from your web site or social media posts directing clients to your experts whatever their question.
Andrew is certain where the future of business support services is going "We have the evidence of the advantage of a centralised, consolidated service with a multi-lingual capability. Not only does this improve consistency and quality of customer experience, but it cuts costs by cancelling out the need for expensive role duplication across multiple offices."
It seems when it comes to Brexit at least one thing is certain.